Liquid Chromatographs (HPLC) Description
You will actually find quite a number of options when you are trying to find the best rental or lease for liquid chromatography. Manufacturers are making integrated systems, as well as all-in-one systems and those that have modular components. Those who choose an integrated system will likely have everything they need, while those who are choosing modular components need to make sure their rental or lease contains everything they will need. Also, consider the detector that comes with the machine. The most commonly used detector is UV-VIS. However, other options, such as electrochemical and conductivity are options that you may want to consider as well. If you have a specific product question, a KWIPPED supplier will be more than happy to assist you.
Features of liquid chromatographs (hplc)s
These complex machines actually perform simply and do not have too many features. The systems include the stationary and mobile phase, pump, the injector, the column, and the detector. Naturally, they will also have the controls built into the system. The controls are relatively simple to understand, but only those who know what they are doing should be using these machines. This will ensure that they are getting accurate numbers and data for the research.
How liquid chromatographs (hplc)s work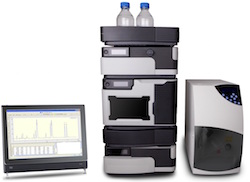 The high performance liquid chromatography device utilizes high pressure in the system to force specimen into the mobile phase. This high pressure pushes the sample through the columns. The older method of liquid chromatography uses gravity to accomplish the same thing. However, it tends to take quite a bit longer. This is a faster and more efficient option, and is the route that most of the manufacturers are taking when it comes to these devices. Once it passes through the column, it becomes possible to identify and count the various compounds.
About liquid chromatographs (hplc)s
When it comes to chemical analysis, there are few things more valuable to your laboratory than liquid chromatography. These devices are able to separate and identify compounds that are in liquid samples. They are also capable of quantifying these compounds. Another term for this is HPLC, or high performance liquid chromatography. It is useful in a wide variety of fields today including the food and beverage industry, and the pharmaceutical field.
Liquid Chromatographs (HPLC) Applications
Pharmaceutical
Biochemistry
Food and beverage testing
Environmental analysis
Liquid Chromatographs (HPLC) Manufacturers
Thermo Fisher J
ASCO
Shimadzu