Barricade Description
When you are looking for barricades for your event, construction project, or anything else, you need to think about the type of items you need. Are you trying to keep out people, cars, or a combination of the two? Are you trying to make sure people are staying in line, whether in their vehicles or on foot? There are different types of barricades for every situation, so make sure you are choosing the right one. In addition, think about how many of them you will need. In general, it is better to have too many barricades available instead of not enough.
Features of barricades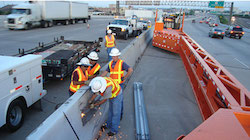 Barricades are immediately recognizable, and that's one the best things about them. When people see the barricade (whether it is all steel or it has orange and white stripes), people know that they can't pass beyond that point. Most of the barricades that are available come with stands. Some also have lights on them so they can be even more noticeable to those who are around them. There are a number of different options available.
How barricades work
All barricades have a very simple premise. They are used to block people off from entering certain areas. Some of the barricades are able to block vehicles, while others are a better option for those who are trying to ensure people stay in line and don't wander into places they shouldn't. They are very helpful for worksites of all types, as well as for events. They are one of the best additions to help make the location more secure and to ensure that things run smoother.
About barricades
If you are doing some construction and need to close off a part of the road, or you are managing a large event, then having some barricades on hand to help with this is essential. These barricades are easy to see, and drivers who see them know what they mean. They can help you ensure that cars drive and park in the right places. In addition to those that you can put on roadways, you will find that there are quite a few other types of barricades, including those that are perfect for keeping people in line.
Barricade Applications
Construction
Events
Roadwork
Crowd control
Barricade Manufacturers
US Barricades
Traffic Works