Engine Driven Welder Description
One of the first things you need to think about when you are renting an engine driven welder is just which type you want. They have different models that run on diesel, gas, and LPG. Choose the fuel system that's most convenient and cost effective for your needs. You should also consider the size and the portability of the device, as well as the power it is able to supply. Make sure that the unit is capable of providing you with enough power to do the welding job right. Also, make sure you have a reliable way of transporting the unit, or be able to bring the items you need to weld to the unit.
Features of engine driven welders
The engine driven welders tend to be quite rugged, as they need to perform well in a number of environments, some of which can be harsh. They also have simple hookups and controls that help to make operation nice and easy. Keep in mind that even though the weight of these engine driven welders is substantial, with many topping 600 pounds.
How engine driven welders work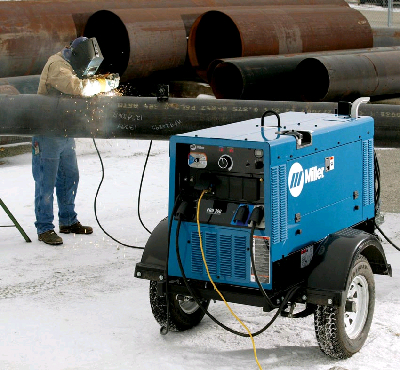 With an engine driven welder, today's models contain internal combustion engines in order to use the mechanical energy of the engine and turn it into electrical energy, which can then be used by the welder. This is a very popular type of welding power supply today. Most of the time, these welders tend to look very much like a small generator, and that's very similar to what they really are. Instead of supplying electrical power to a house though, it is supplying it to the welding tool. Some of the high quality welders are able to run for a long time and use less fuel than models of the past, which means cost savings for you.
About engine driven welders
An engine driven welder is a type of welding power source that utilizes an actual engine as a means to provide the power needed. They are available in a number of different varieties. Some will run on gas or diesel, while there also happen to be LPG models. The welding done by the user commences as normal. The difference comes from the power supply in use. It converts mechanical energy into electrical energy. Different types of welding will generally require different types of power supplies to be entirely effective and efficient.
Engine Driven Welder Applications
Industrial
Mechanic
Machine shop
Engine Driven Welder Manufacturers