Camera Accessory Description
When you are trying to rent or lease camera accessories, it is very important to know exactly what you need, or at least to have an idea of what will make your production better. Some accessories, such as lenses, for example, will only work with certain types of cameras. The same is true of other types of accessories too. Something that you might want to consider is renting bags for some of your gear. This will help to protect it. Make sure you know what you need, but be willing to consider some alternatives as well. If you have a specific camera accessory question, a KWIPPED supplier will more than happily assist you.
Features of camera accessories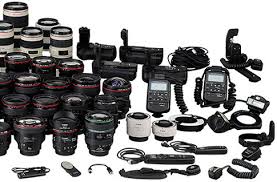 Again, since there are so many different options when it comes to camera accessories, there are plenty of different features for each of them. When you know what type of accessories that you want to rent, take the time to look into each of them and see what individual features they will be able to offer.
How camera accessories work
With the different types of camera accessories, each of them works quite differently. However, they all have the same overall goal, which is to improve the functionality and use of your camera in some way. Whether it is a cable to connect your camera to a larger monitor, a new lens that will provide you with the field of view you need for a certain scene, or anything else, they always make your experience with the camera better and more productive in some way.
About camera accessories
Camera accessories run the gamut and can be just about anything that helps to improve the overall functionality of your camera. One of the most popular and important types of accessories is the lens. These are available in many different sizes and styles to help your camera achieve different effects. Another popular addition to a camera is an onboard microphone, such as a RODE. These are great for filming interviews. However, this is just the beginning of the different camera accessories. Some of the others include onboard lighting, slides, dollies, battery packs, lens filters, and even time code production slates that you can synchronize to your camera.
Camera Accessory Applications
Film
Video
Commercials
Television
Live broadcasts
Camera Accessory Manufacturers
Bencher Inc.
Sony
Canon
RED
Cinema Products Corporation